Here's a special blog, on a special day – not the usual Wednesday Weekly Writing Tip.
Congratulations to Simon Wutherich, for winning the beautiful Sunflowers in Blue oil painting. Your generous donation of $700 is going to a worthy and needy cause, the Ukraine Humanitarian Appeal. Thank you very much for your generous support. 
Many of us are watching in horror as events in Ukraine unfold, and we see the desperation of the fleeing refugees and the dire circumstances of those choosing to stay in place, or who are left behind due to personal circumstances. I feel limited in what I can do, or what I can take on, as I'm sure many do.
Cleaning out my mother's estate, I have often reminisced while admiring a special painting, which we call "Sunflowers in Blue". My parents bought this oil painting from a talented artist friend in 1970, shortly after they purchased their first house. It was hung proudly in a place of honour over the living room sofa in that first house and the subsequent two houses. Sunflowers were my mother's favourite flower, and orange was her favourite colour. The solid teak frame blended well with their mid-century modern teak furniture. The painting was quietly, cheerfully present for all of our family events and festive holiday dinners, all the laughter, all the tears. When my father passed away and my mother moved into an apartment, she had to down-size drastically, and she parted with several art pieces. But she kept this painting and moved it to her bedroom, above the bed, to enjoy every day.
My brother and I have struggled to find a place for this painting in one of our homes. We don't want to part with it, but we simply do not have a wall space where it would be properly honoured and appreciated.
So we will auction this original oil painting, and the proceeds will be donated to the Ukraine Humanitarian Appeal, established by the Ukrainian Canadian Congress (UCC) and the Canada-Ukraine Foundation (CUF).
I think my mother would be pleased that this painting will somehow make a difference – that the new owner will derive the same cheer and peace from this painting, and that the proceeds will help people truly in need.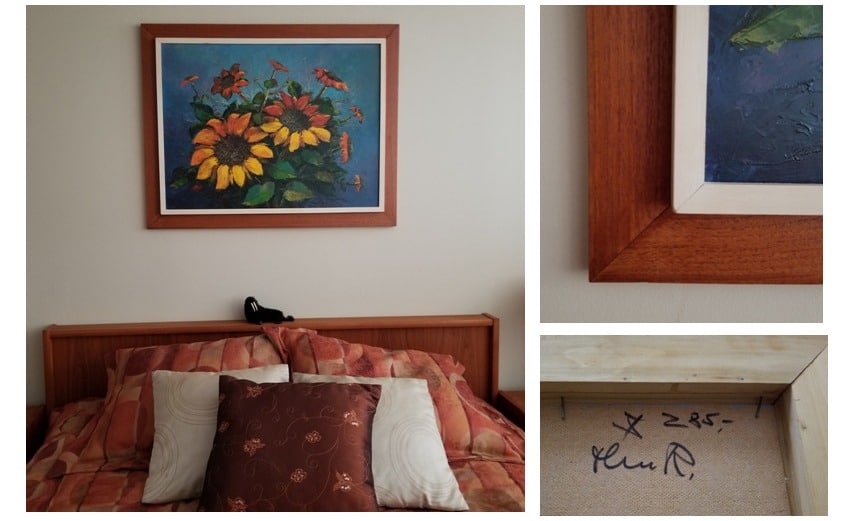 PAINTING SPECIFICS
Original oil painting, approximately 52 years old. 
Signed by the artist on the back, but I can't decipher the name.
The frame is solid teak with a white painted wood inner frame.
Dimensions:   Unframed: 24" x 32"
                          With frame: 29.5" x 37.5"
AUCTION RULES
Auction opens at 10 am EDT, Friday March 18, 2022.
Auction closes at 6 pm EDT, Thursday, March 24, 2022.
All bids are in Canadian dollars.
Opening bid is $50. Increases are in increments of at least $10.
Payment is due in the form of cash, money order, or e-transfer. 
Delivery/shipping costs and customs/duty (if outside Canada) are the buyer's responsibility.
The painting is located in Brampton, Ontario, Canada. I'll coordinate with the buyer for in-person transfer of the painting in the Greater Toronto Area. For further distances, I'll coordinate with the buyer for suitable, secure shipping.
HOW TO BID
Simply complete the "Submit a Comment" section below.
In the Comment portion, include your first name and last initial, or nickname (i.e., how you wish to be identified) and the amount of the bid – note that all amounts are in Canadian dollars.
You'll also need to provide your name (which will be listed publicly) and your email address (which will remain private, for my use only).
All comments are automatically time-stamped.
I review and approve all comments prior to posting, to weed out spam or rude comments. During the auction period, I'll review and post all bid comments at 8 am, 10 am, 1 pm, 4 pm, 6 pm, and 10 pm EDT. On the final day of bidding, Thursday, March 24, I'll update the bid comments hourly from 10 am onwards, and live from 4:30 pm to 6 pm EDT. The winner will be notified by email and posted on this page.
Happy bidding everyone!